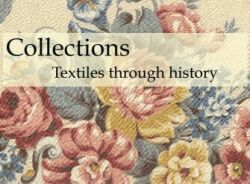 Collections, a series of interactive computer compact disks (CD's) brings not only the stories of textiles, but also, images of the actual textiles for information, research and most especially, for your enjoyment.
Each edition of the series is dedicated to a topic of textile history, from prehistoric textiles to 20th Century collectibles.
Feedsacks Volume One contains a History of Feedsacks including full color images for collectors or textile historians.
Feedsacks Volume Two continues the story of these textiles plus full color images of feedsack creations, apparel, needlework & quilts.
Click here to be added to our mailing list for the series
Vintage Fabrics

Imagine creating a quilt or wall hanging using a pattern popular when your grandmother was a quilter; Sunbonnet Sue, Grandmother's Flower Garden , Double Wedding Ring with Authentic, not reproduction, fabric from 1930's - 1950's, in the wonderful assorted colors and designs of that period.

1930's - 1950's fabrics in packets of assorted color & design:


| | |
| --- | --- |
| Eight (8) 6 inch squares | $6.00 |
| Sixteen (16) 3 x 6 inches | $6.00 |
| Quilter's quarters | $4.00 |
| Scrap bags (fabric only) If you love to make small quilts, use foundation piercing, applique, this generous bag of authentic fabric is perfect for you | $12.00 |
Now you can order Charm Packets of 30's - 50's Fabrics
-each fabric a different pattern! (details below) How to Order

| | | |
| --- | --- | --- |
| 100 | 4"Squares | $40.00 |
| 100 | 3" Squares | $30.00 |
| 100 | 2 1/2" Squares | $25.00 |
For more information, phone Margy Norrish at
(505)216-0647 or email to:
Cinnamon Studio